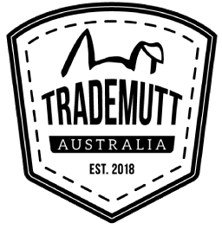 G'day Mutters!
Thanks for your continued support of TradeMutt and our mission of making an invisible issue impossible to ignore. We've had a very successful couple of months working on a number of projects, site visits and collaborations. We thought that it was a perfect time to fill you all in on what we've been up to. 👍
TradeMutt and QUT join forces to drive change
Recently, we were lucky enough to be included as on of six industry partners in the Queensland University of Technology Impact Labs. Comprising a mix of student from QUT's school of design, participants were asked the question, "How can design be used to further the work and make the mental health message of TradeMutt more influential?"
Students came up with ideas after hearing the TradeMutt story and mission, as well as some of our pain points and lag points that we currently experience. We were presented with 22 innovative and creative ideas, pitched to us in the lecture rooms of QUT. Ideas ranging from digital platforms, public art works and installations, world record breaking smoko events, innovative "tradie" products and mobile shops to name a few.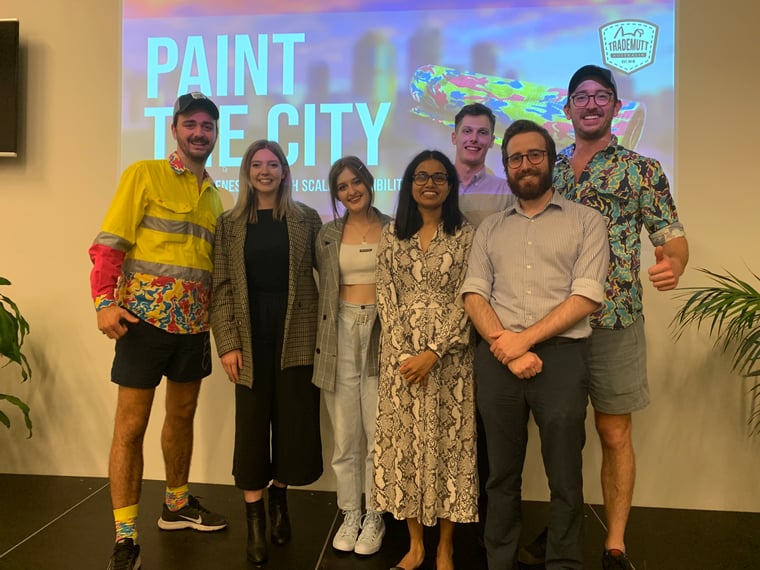 Our challenge was to select the top four pitches who would get the opportunity to present again at the final Pitch Night, held at Fishburners in Brisbane. Our winner, a very innovative group who designed the idea of TradeMutt building site scrim to be erected on site fences, scaffold towers and construction sites everywhere as a large-scale visual reminder of a supportive and non-judgmental construction site.
Tonka - Queen of the Isa
 Local legend Anthony 'Tonka' Toholke has been crowned the Queen of the Rodeo in the 2019 Mount Isa Mines Rodeo Queens Quest. Amassing a staggering $101k in his 10 month long campaign raising funds for This Is A Conversation Starter foundation.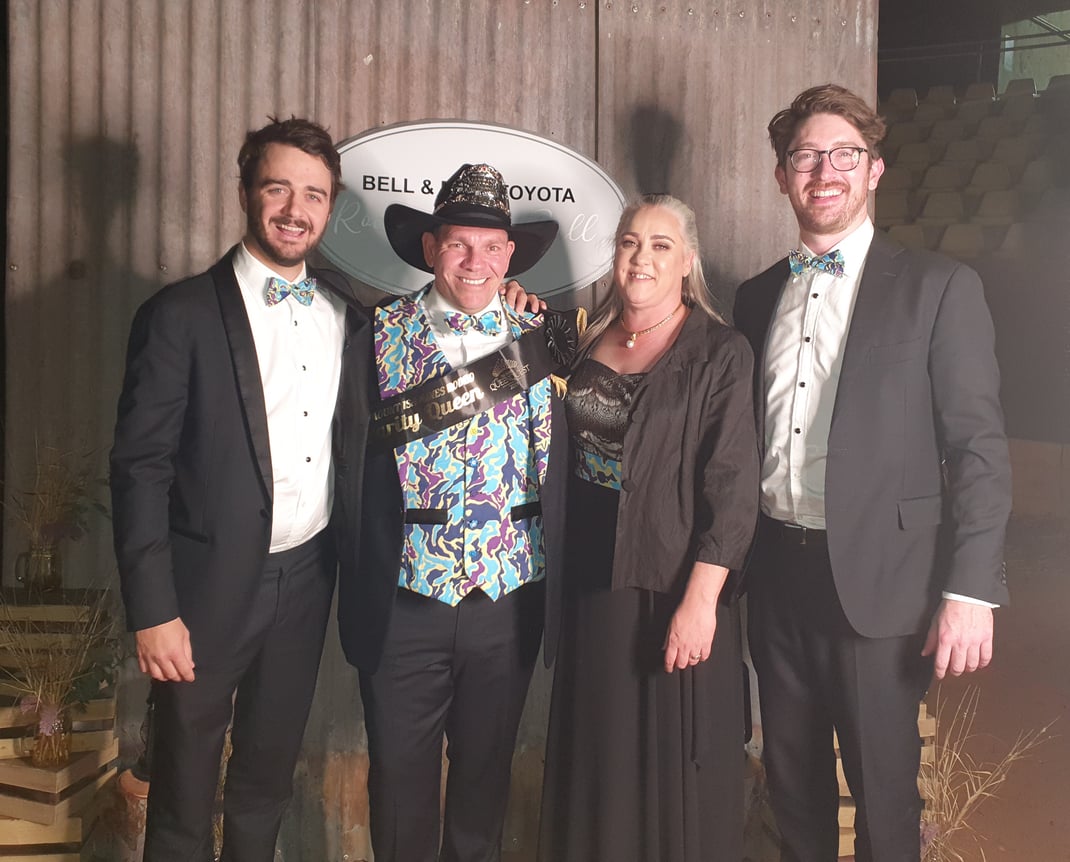 TIACS was established by TradeMutt Co-founders, Ed and Dan, and exists to remove the physical and financial barriers that prevent anyone from accessing professional mental health support.
Tonka is the fist major individual donor to the TIACS foundation, and his efforts are nothing short of incredible. Through his fundraising efforts, Tonka has paid for 570 hours of direct access to clinical psychologists through the TIACS text line which is the first initiative of TIACS, with the aim of soft launching in December 2019. Congratulations and a massive thank you, Tonka!
Qantas fly the TradeMutt flag
On the 10th of September, people all around the country ask the Question, "R U OK?" This year, the team from Qantas in Brisbane, invited TradeMutt out for two smoko presentations where we discussed TradeMutt and the topic of Mental Health to the ground crew. Our laid back style was received extremely well, made evident by the number of people that approached us afterwards to share their stories and experiences with mental health. 
With the Qantas in house policy of 'Safety before Schedule' being at the forefront of employee's minds, this message is extended to the personal safety of their staff members and the important topic of self-care and mental health. With a bit of luck, next time you look out the window and see a member of ground crew on the tarmac, they'll be wearing a high-vis TradeMutt shirt.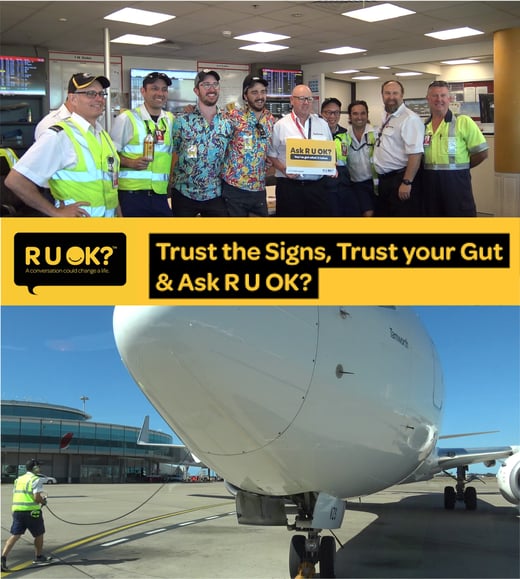 120 Grit is a Hit!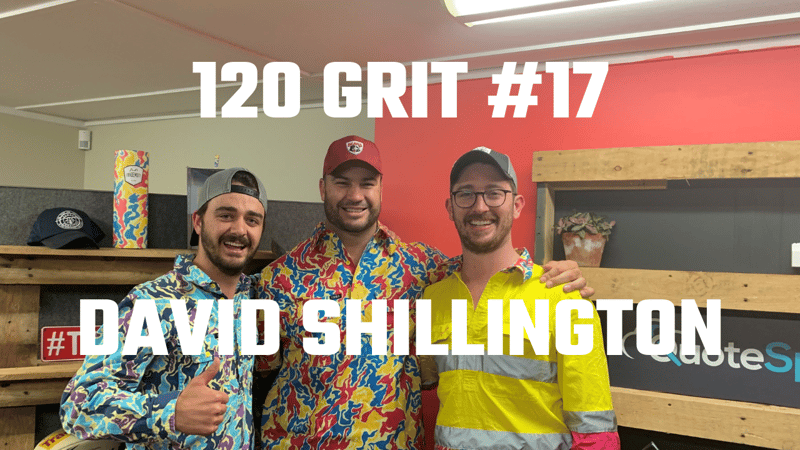 >>Click the image above to check out our 120 Grit podcasts<<
The TradeMutt podcast has been gaining momentum, as we continue to sit down with a colourful variety of interesting people, having insightful conversations about different peoples experiences through life and mental health.
Together, they are out to show that blokes can talk about the hard stuff and help encourage others to do the same. Our podcast is available to view through the TradeMutt website, just follow the link to 120 Grit Podcast. You can also listen by searching for TradeMutt's 120 Grit wherever you listen to your podcasts.
Our recent guests:
Forget decluttering your wardrobe - go spring clean your finances
Confession time. I love a good spring clean. Not just the "dust and tidy" variety, but a good old "pull everything out, scrub everything clean and only put back what you want in an ordered way" type of clean.
My wife often takes a deep breath when I say, "I'm thinking of cleaning out the bedroom cupboards."
She knows soon there will be piles of things once stored in the upper reaches of our wardrobe strewn across the bedroom as I fastidiously clean everything before re-ordering it into "keep", "give away" or "sell" piles and neatly packing it all away again.
It's total chaos for a bit, and it can be exhausting work, but in the end the whole house seems to feel lighter, more peaceful, more ordered and more in control.
I know I'm not alone in this - people do feel this way after a good spring clean.
It seems that cleaning and decluttering our physical environment has the effect of decluttering and ordering our mind as well. If we feel in control of our external physical space, we feel in control of our mental space as well.
What a lot of people don't realise is that every now and then we should also spring clean our finances.
This is not like doing tax returns or EOFY accounting - it's a different head space.
This is about really getting into the financial nooks and crannies of your superannuation, loans, credit cards, memberships and subscriptions. Discover what the real costs are and what you are paying for them.
When I spring clean I often find things I had forgotten about, or never knew I had. The same thing happened recently when my wife and I did a financial cleanout.
Picking through my super we discovered I had certain insurance that was costing quite a bit each month - it was a product that suited our circumstances a few years ago, but we no longer needed it. Out it went and now I have additional money going into my super. I also found three extra subscriptions that I didn't need and realised my health insurance was more suited to my 30-year-old self rather than my 40-year-old self, and changed it to a more appropriate product, which saved even more money.
That's hundreds of dollars saved every month simply by spending time looking into every corner of your financial lives and throwing out anything that is unnecessary. It's like giving yourself a pay rise! Don't forget that many financial products also come with rewards and benefits such as discounts on purchases and entertainment that can make a significant difference to weekly spending. No longer are we spending on things we don't need; we also have access to gifts and discounts that can really add up.
So with such obvious financial benefits, why is it we rarely look into the darker, hard-to-reach parts of our finances? The main reasons I hear are that some products and benefits can be hard to find, it doesn't feel like an urgent thing we need to do and there are other more obvious, more important (or fun) things to attend to. But probably underlying all these reasons is that psychologically it feels like a painful and effortful task.
However, the buzz you get from finding hidden treasures in your finances and taking control of your money far outweighs any painful effort Spring cleaning our finances increases our financial wellbeing as well as our mental wellbeing. Give it a go, and you'll be surprised just how good being in control of your life feels.
Questions to ask before the big clean-up
• What is included in your superannuation insurance policies? Many policies offer better rates for certain occupational ratings – check that you are getting the best deal possible. Also make sure you're not paying for policies you don't want or need.
• What rewards and discounts are you entitled to through your financial products or other memberships? Small discounts and benefits can really add up.
• Do you have any other insurance policies that you haven't reviewed for a few years? Make sure your coverage matches your current requirements.
• Look at your memberships and subscriptions – are there any you haven't used for several months? In this online world, it's easy to lose track of monthly paid apps, software subscriptions and premium access services. Check your bank and credit card transactions for any unnecessary monthly or annual withdrawals.